Vitamin C, also known as L-ascorbic acid, is a water-soluble antioxidant vitamin that our bodies do not make so it is essential to consume daily.
Vitamin C has far-reaching effects on a number of tissues in the body because it is required for the synthesis of collagen, carnitine, and neuropeptides and is a powerful antioxidant that reduces free radicals and inflammation.
Collagen is a fundamental component of bones, tendons, ligaments, blood vessels, skin, gums, and joints. Ultimately, the health of these tissues depends on vitamin C.
Vitamin C helps detoxify the body, promotes cell healing and helps reduce stress.
---
VITAMIN C IS A KEY FACTOR IN CARDIOVASCULAR HEALTH
C-Reactive Protein, CRP, is measured on blood tests and when elevated is an indicator of a high risk for heart disease and heart attacks.  Vitamin C and co-enzyme Q10, CoQ10, work together as a team when taken in optimal amounts to lower CRP naturally.  Vitamin C also contributes to collagen and the endothelial cells that help keep the heart flexible and not rigid.  Having optimal Vitamin C levels is a way you can reduce your inflammation markers naturally.
---
VITAMIN C HELPS DIABETICS
Most diabetics are insulin resistant which increases inflammation and increases the need for antioxidants like Vitamin C.  Vitamin C helps reduce inflammation.  Studies have shown that consuming 1000mg/day of Vitamin C can significantly reduce blood sugar levels in type 2 diabetics.  Researchers at Johns Hopkins found that taking 500mg/day of vitamin C can moderately lower blood pressure.
---
GEAR UP FOR THE COLD AND FLU SEASON
Studies have shown that regular use of vitamin C supplements shortens the duration of the common cold.  Whereas once cold and flu symptoms are present starting vitamin C supplements has less of an effect.  Take preventative measures.
---
ARE YOU GETTING WHAT YOU NEED?
Most people with a chronic illness suffers from low levels of Vitamin C.  Come in and get tested.  If you've missed a couple days/months, etc., you may want to do a healing regimen.
If you do not have enough vitamin C you are more susceptible to bruising easily, gingivitis and many diseases like, colds, flu's, heart disease, hypertension, diabetes, cancer and scurvy.
The RDA amount is based on the prevention of scurvy. Adult male smokers should have 125mg/day of vitamin C and non-smokers, 90mg/day.
To prevent chronic diseases more than 500mg/daily is needed.
For healing chronic diseases more than 1000mg/day is needed.
---
WHERE TO FIND GOOD FOOD SOURCES:
According to the USDA here are some foods containing Vitamin C in milligrams.
Start with organic fresh fruits and vegetables.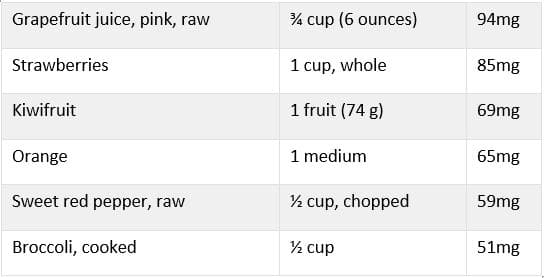 Heat destroys Vitamin C so eat fresh or lightly steamed.
---
SUPPLEMENTS, WHAT TO LOOK FOR:
Good quality products that are processed and stored to maintain quality, quality tested, FDA inspected, FDA regulated with known sources.
Vitamin C has ascorbic acid in it but the whole food vitamin C is what has the health promoting effects.
---
BIO-C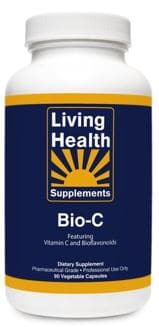 Bio-C combines high-potency vitamin C with a standardized, full-spectrum, citrus bioflavonoid complex.
Bioflavonoids (also known as flavonoids) are phytochemicals that are often found together with vitamin C in nature and appear to support healthy metabolism and cognition by functioning as cell-signaling agents. Citrus bioflavonoids are able to cross the blood-brain barrier and have been recognized for their neuroprotective effects
Each capsule of Bio-C provides 500 mg of vitamin C and 500 mg of citrus bioflavonoid complex in a one-to-one ratio.
Antioxidant support*
Healthy Connective Tissue and Blood Vessel Synthesis*
Support of Normal Immune System Function*
Synthesis of Carnitine, Neurotransmitters, and Collagen*
For more information call our office at 410-216-9180 or to order Bio-C online click Here!
---
VIDEO REFERENCES:
RADIO SHOW REFERENCE:
REFERENCES: