Improve Erectile Dysfunction Naturally At Any Age
Improve Erectile Dysfunction
Naturally At Any Age

A common problem for many men as they age is erectile dysfunction (ED).  The current estimates are that more than 30 million men suffer from this condition.  ED has shown to lead to depression, affect the relationship with one's partner and overall quality of life.
---
Is ED The First Sign Of Bigger Health Issues?
Science supports that erectile dysfunction can be caused by clogged blood vessels responsible for providing an erection.  This can be a first sign of clogged arteries in the rest of the body as well.  Cholesterol and other substances in the blood build up on vessel walls and harden into plaque, which is a condition called atherosclerosis.  This causes the pathway for blood flow to narrow and blood flow is reduced.
If left untreated, continued narrowing of the blood vessels, throughout the body can occur leading to pain in your legs while walking, erectile dysfunction, angina, heart attack and even stroke.
Erectile dysfunction is often a warning sign of heart disease according to Patrick Skerrett, the Former Executive Editor at Harvard Health.  A study in 2018 indicated that about 40% of men in their 40's and 70% of men in their 70's experience erectile dysfunction.  Another study showed 1 in 4 people seeking help for ED were under the age of 40.
---
Lifestyle Changes To Improve Blood Flow
Here are some lifestyle changes to consider that may improve blood flow, reducing the risk of heart disease and erectile dysfunction:
Quit Smoking
Reduce your Blood Pressure
Reduce your Stress and Communicate with Your Partner
Keep Your Diabetes in Check
Reduce Inflammation and Improve Your Eating Habits
Check Your Testosterone
Lose Weight
Keep a Good Exercise Regimen
Rest and Get 7-8 Hours of Sleep
---
Conventional vs Natural Treatments For ED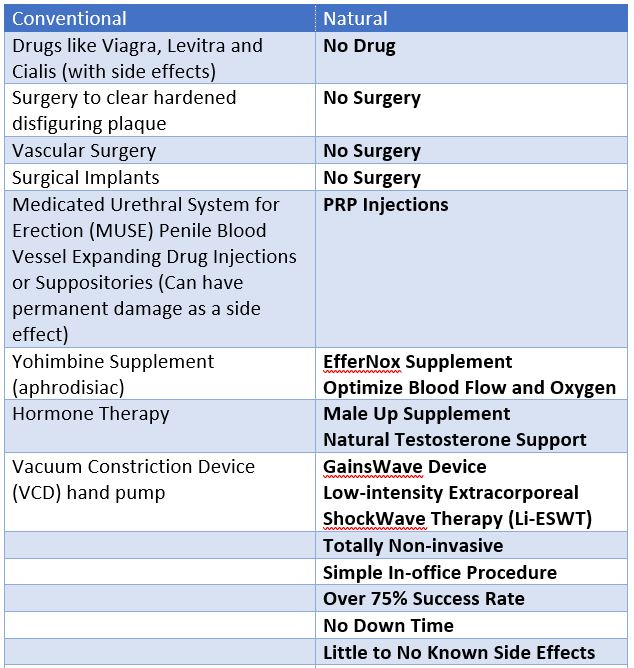 ---
What is GAINSWave?
GAINSWave is the premium brand of extracorporeal shockwave therapy for erectile dysfunction that is performed by highly-trained medical providers.  Shockwave therapy involves the transfer of acoustic waves into the body to promote healing and the growth of new blood vessels.  Treatment is all-natural and clinically proven using high-frequency shockwaves to enhance male sexual function, performance, and overall health.
It is the only non-invasive procedure that treats the root cause of erectile dysfunction in men by increasing blood flow, releasing growth factors in the tissue forming new blood vessels, and breaking down micro-plaque in the penis.  This allows men to experience better erections and enhanced sexual performance!
For more information call our office at 410-216-9180 or visit us online:
---
Natural Supplements For Men's Health
Male Up
Male Up features the herb Tongkat ali (Eurycoma longifolia), which boasts a variety of published clinical trials boasting its effectiveness.
Helps to maintain normal testosterone levels which are important for supporting sexual desire and fertility (sperm concentration/mo­tility)*
Supports mood and energy
Provides safe support for normal testosterone production, erectile function, and desire*
Made with non-GMO ingredients
For more information call our office at 410-216-9180 or to order Male Up online click HERE!
EfferNox
EfferNox  Optimizes Flow of Blood and Oxygen to Peripheral Tissues*
Helps Maintain Healthy Male Sexual Function*
Supports Lean Body Mass/Athletic Performance*
Supports Healthy Dilation of Blood Vessels*
Supports the Healthy Flow of Blood and Oxygen to the Brain for Healthy Mood, Mind, and Memory*
For more information call our office at 410-216-9180 or to order EfferNox online click HERE!
---
Resources: